Shepherdstown - Mondays (top)
Leaving from the Shepherdstown Food Lion Parking lot at 5:45 pm sharp. We stop at all corners and nobody gets left behind. This ride will have two groups: B riding 18-20 miles and C/D riding 14-16 miles. The C/D group avoids the biggest hills and roads with a lot of traffic. The rides will be canceled if the roads are wet. First time riders early in the season may fall into the E classification, but generally become C or D riders throughout the year.
---
---
Bavarian Ride & Bakerton Ride - Wednesdays (top)
Status

Beginning date TBD
Start Time

A/B: 6:00 pm; C: 5:30pm
Meeting Place


Bavarian Inn, Shepherdstown (A/B ride)

Behind Bakerton Store (C ride)
Point of Contact
Scott Bean (A/B), Peggy Williams (C)
Distance
23 Miles
Classification
A/B & C
The Bavarian Ride is 22.4 miles of rolling, and in some cases hilly terrain with an elevation gain of 1200 ft. This is a fast-paced ride. Riders may opt to stay for beverages at Bavarian Bros. Brewing after the ride.
The Bakerton Ride is 23 miles of rolling to hilly terrain at a C/D level pace. The elevation gain is 995 ft. Riders stop and regroup at most, if not all, of the turns along the way.
---
Canal Ride - Occasional This is a casual, slower-paced evening ride for folks. Our speed, distance and direction will be determined by the riders who attend. Watch your email or the Panhandle Pedalers Cycling Club Facebook page for ride announcements.

| | |
| --- | --- |
| Status | Watch this spot |
| Start Time | 5:30 PM |
| Meeting Place | Large parking lot on Canal Rd. |
| Point of Contact | Jen Bean, or volunteer to lead if you can! |
| Distance | 10-20 miles |
| Classificaton | Family Friendly |
---
Summit Point Road Ride - Tuesday(top)
| | |
| --- | --- |
| Status | TBD |
| Start Time | 6:00pm |
| Meeting Place | Cheryl & Brad's House - 4708 Summit Point Rd, Charles Town, WV 25414 |
| Point of Contact | Jacques Lamarre |
| Distance | 18-25 Miles |
| Classification | B/C Intermediate |
This is an intermediate ride...Route options from 14-23ish miles, most often in the middle. Average pace 13-15 mph.
Mountain Bike Ride
Status NOT ACTIVE Start Time 6:00 pm Meeting Place Rolling Ridge, Poor House Farm, or Sleepy Creek *Check member site for information POC Cheryl or Brad Coffman Distance 6-11 miles Classification Beginner thru Advanced
This ride is for those who want to venture off the pavement. Where we go and how far will depend on interest from the group, so check the Facebook and/or club page for details the week of the ride. Please have your bike in good working order, bring usual gear: helmet, gloves, flat fixing supplies, drinks, snacks, and possibly knee and elbow pads. Let's have some fun in the woods!
---
Path Ride - Thursdays (top)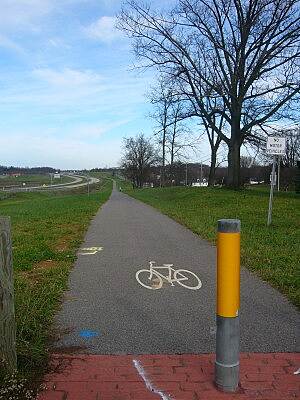 This ride was designed to be a ride for beginners to come ride with the club 'veterans' and learn about riding on the roads while building the strength & endurance to eventually come out to other, more challenging, weekly rides. The route is mostly flat and the pace is slower. Riders stop to regroup at every turning point.
The Thursday Beginner/Entry Level Ride is a D/E level ride commencing with an initial 5 mile loop at 5:30 pm (pace 10 mph) follow-by a 10-20 mile ride at 6pm (pace 12 mph). The 6 pm pace can increase as the season progresses dependent on the rider pool that is present. The ride initially introduces beginner riders to the bike path and low-grade road riding, but can branch out into more road based riding as the season/rider pool advances. Come and spread your love of cycling, encouraging words, and expertise to newer riders. I hope to see you all in the saddle this season!
With regards - Ruth


---
Weekend Warmup Ride - Fridays (top)
| | |
| --- | --- |
| Status | NOT ACTIVE |
| Start Time | 5:30pm |
| Meeting Place | Poor House Farm Park / Varying Locations |
| Point of Contact | Chris Burns Please RSVP to Chris or post if you plan to ride. |
| Distance | 20-30 Miles |
| Classification | A/B |
This ride will be endurance plus ride that will be a no drop on the first 10 mile lap. 2nd and 3rd laps will be at a pace dictated by the group of riders present each week. This ride is by RSVP only, therefore please post up or contact Chris Burns of your attendance each week.
---